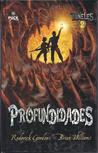 Deeper by Roderick Gordon
My rating: 2.5 of 5 stars
Both the first book and this one suffer from the same issue: It's a very interesting concept, but kinda slow and boring in execution. I guess it's because I'm a bit too old for these books, I surely would've loved it as a kid, for it has sufficient action and adventure. I would definitely recommend it for younger children.
Get the rest of this series: